By: Leyen Trang
While Organizing Fellow Vang Xor Xiong initially dreamed of a series of workshops focused on facilitating self-care techniques among Asian Americans, his fellowship has shifted to focusing on accessibility. He had realized that there was a disparity gap between Asian Americans with mental health issues and access.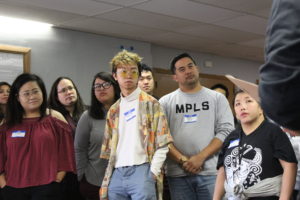 In the past 6 months, Xiong has connected with the APIA community in the Twin Cities, holding almost 200 phone conversations about mental health. Through those conversations, Xiong realized two very important things:
One was that the APIA community knew self-care, even if they didn't know the terminology. They knew that they needed to take care of themselves and that they needed to "recharge."
And secondly, the APIA community might be able to describe symptoms of mental illness but they oftentimes didn't know that they were symptoms of a larger problem or that they were symptoms at all.
Through these conversations, Xiong realized that he needed to expand his work and build the bridge between the community and resources.
"As a 1.5 generation immigrant, I have one foot in each door," Xiong says, referring to the cultural and western communities. "My most powerful agency is connecting my cultural community to resources."
To do that, Xiong continues to work with National Alliance with Mental Illness (NAMI) to build an infrastructure for API in the Twin Cities to gain access.
One of the programs Xiong is working through NAMI in building is creating access to their Healthcare Specialist training program. The program is an 2-week 8-hr day training program that teaches healthcare based skills. Xiong hopes to bring more awareness to this opportunity to open doors specifically for communities of color. There is no fee to join the program; the requirements to join the program is to have a high school diploma and lived experience in the mental health field.
Access to the workforce is one program that would bring down barriers for APIA communities.
Xiong is currently also working on connecting with MN House Representative Susan Allen to push for legislative bill (HF 2395). This bill would incorporate $4,200,000 to be allocated to support mental health services targeting communities of color.
"This would create access to those who want to create mental health programming for communities of color," Xiong says.
Lastly, Xiong is working to build a long-term suicide prevention program in AAOP. Many current suicide prevention programs are white-centric or don't focus on APIA communities. It is important to specifically build a program for APIA communities because Asian Americans don't often utilize the mental health services.
The fellowship ends in June, but for Xiong, his work is just beginning.
"I'm planning on continuing the work after this," he says. "This is my passion project and this is important."
Connecting Our Cultural Community to Resources