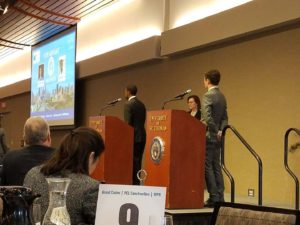 By: Leyen Trang
(Left: Mayors Carter and Frey begin their conversation.) Community Organizer Pashie Vang and Organizing Fellow Vang Xor Xiong attended the Breakfast with the Mayors event held at the University of Saint Thomas in St. Paul on January 30th.
The annual event provided newly-elect Mayors Jacob Frey and Melvin Carter the opportunity to speak about their 2018 priorities and how the Superbowl event impacted its economic growth.
About 150 community members, mostly older white people, gathered to listen.
Both mayors spoke about using the river as an asset for economic growth, arguing that the Twin Cities had been ignoring the potential of river-based infrastructures and businesses. The Twin Cities were constantly building a bridge over the river instead of using the river.
St. Paul Mayor Carter turned his attention to bridging the disparity gap between communities of color and white communities, arguing that it began with education. He plans to implement a program that would invest at least $50 per St. Paul-born child.
Simply having programs that enable parents to invest in a college fund, Carter argued, citing multiple sources of research, would increase the likelihood of kids attending higher education by three times the rate.
Minneapolis Mayor Frey focused his speech on affordable housing. He plans to bridge the gap between homelessness and housing, stating that it would cost more to provide support for people living on the streets than to provide affordable housing.
Vang and Xiong were able to ask a question directed to both mayors. The question focused on the status of St. Paul and Minneapolis as a sanctuary city.
The separation of ordinance essentially is a way to protect the residents of Minneapolis, Frey had responded. This is because the police aren't allowed to ask for citizenship status.
Carter stated that there are different definitions to a sanctuary city. For him, a sanctuary city is a city that protects their fellow immigrant neighbors.
It's more than just providing protection to undocumented people, he added, but also provided them the means to thrive as a St. Paul resident regardless of citizenship status.
The Breakfast with the Mayors event will be aired on SPNN (Channel 19) and Minneapolis Telecommunications Network Mtn (Channel 16) on: February 8 at 7:00 PM; February 10 at 6:00 PM; February 14 at 7:00 PM.
It will be aired on Channel 16 on February 11 at 9:00 AM and Channel 19 on February 14 at 10:00 AM.
Twin Cities Mayors Meet with Community Members