By: Leyen Trang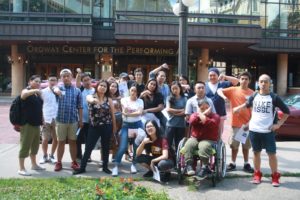 Seeding Change staff and fellows gathered at AAOP's office early Saturday morning for the Regional Seeding Change Midwest Convening. The day began with an introduction of AAOP's history and its beginnings facilitated by AAOP Executive Director Linda Her and Program Director Chong Vang.
(Left: AAOP Staff and OFs and Seeding Change Fellow and Coordinator in front of the Ordway Theatre with disapproving expressions.)
Participants then moved from the office and traveled to Cityview Community School, the site where Fong Lee was shot and killed by the Minneapolis Police Department in 2009. A brief overview of the case was discussed and staff and fellows were able to take time to process.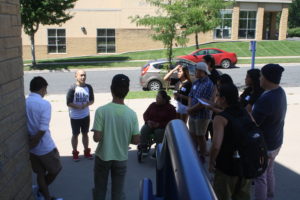 (Right: AAOP Program Director Chong Vang speaking about the Fong Lee case at Cityview Community School.)
From there, the walking tour traveled to St. Paul where Community Organizer MK Nguyen and James Chang provided a brief history of the Frogtown/Rondo neighborhood as well as share their own organizing stories.
AAOP's own Linda Her next took the stage providing context for the Don't Buy Miss Saigon Campaign as the group traveled to Ordway Theatre.
(Left: Community Organizer MK Nguyen speaking at a round table at Asian Economic Development Association (AEDA).)
The walking tour concluded at Hmong Village where participants gathered to learn about the community Hmong refugees and immigrants had built together. This gave all the staff and fellows the chance to see the various stages of activism the Twin Cities community members have organized.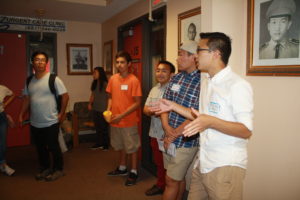 (Right: AAOP Community Organizer Wilson Yang guiding staff and fellows through a tour at Hmong Village.)
Seeding Change Regional Convening