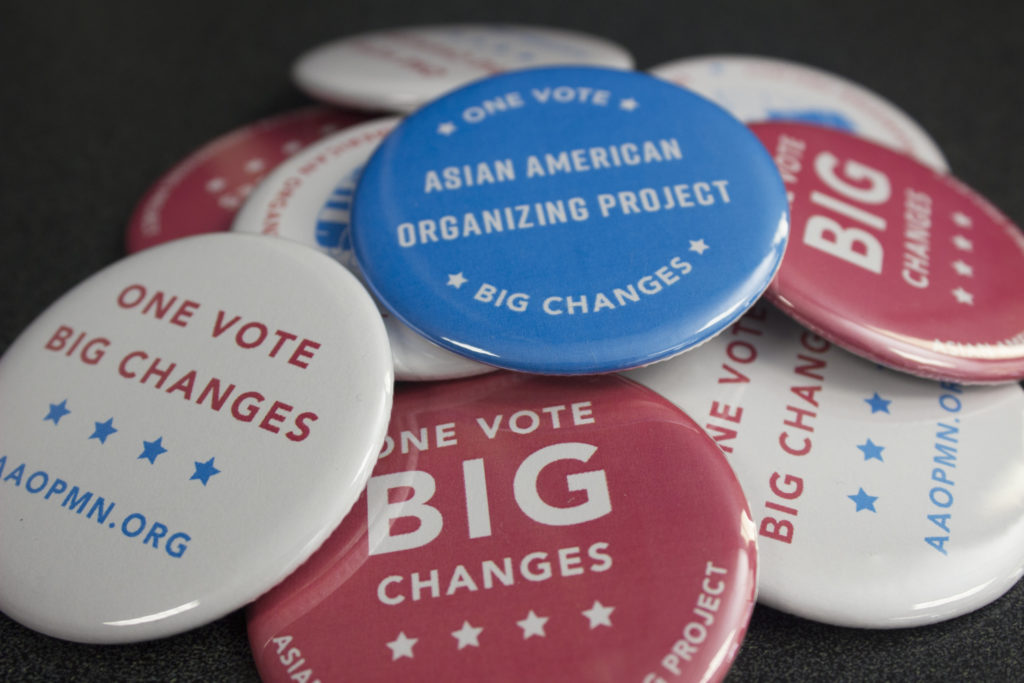 By: Kong Pheng Pha
Donald Trump's election to the U.S. presidency is an ever more urgent call for the exploration of immigrant and refugee experiences and politics. President Trump's candidacy for the presidency was littered with racist, sexist, and xenophobic comments and images, while the first Executive Orders under his Presidency sought to ban most (if not all) Muslim refugees coming into the U.S. The compromised and uncertain political times inspired and mobilized us, radical Minnesotan Asian working within APIs4BlackLives-MN Chapter, to continue the work of speaking to our communities about issues that affect them most. This work began as conversations that a group of radical Asian within APIs4BlackLives were having with their own Asian communities surrounding the ongoing Black Lives Matter movement and around police abuse. Over the last year, these conversations took on a more defined and expanded form in collaboration with radical Asian American activists beyond APIs4BlackLives, coalescing into a new community collective called RadAzns, and with training around phonebanking, doorknocking, and community engagement provided by volunteers, staff, and activists from the Asian American Organizing Project.
Asian community members hosted multiple doorknocking sessions in their homes and at a local library throughout 2016. Volunteers were be able to use these safer spaces to congregate and be trained in doorknocking. One session occurred in Frogtown/Northend in March and two doorknock sessions occurred on the East Side of St. Paul in March and September, respectively. Volunteers doorknocked in the neighborhoods of Frogtown and St. Paul's Northend on the same day as they are neighboring areas, thus we are describing it as Frogtown/Northend. The different neighborhoods provided opportunities for doorknock hosts to ask a set of very different questions that pertained to these neighborhoods. For example, residents on the East Side were asked about whether they felt safe in their neighborhoods and residents in Frogtown/Northend were asked about how to utilize resources for their community. Many questions, however, overlapped for the two neighborhoods.
Organizers did not disaggregate residents by ethnicity, but the majority of conversations were held with Hmong, with some Vietnamese, Karen, Chinese, and Cambodian resident conversations interspersed throughout the different neighborhoods. Altogether, volunteers were able to talk to 193 people within the four doorknock sessions. Organizers intentionally sought out younger residents, ages 18-35. Ultimately, volunteers had conversations with 91 people within that age range. Other residents were outside that age range and/or had unreported ages. Volunteers worked in pairs, canvassing neighborhoods on foot. The pairs left flyers about APIs4BlackLives and AAOP on the handles for doors that were unanswered.
The questions asked for East Side residents included:
1. What are the top three issues you care about most? What are your hopes and dreams for yourself and/or for your children/family about these top issues?
2. What are the barriers that stop you from reaching your hopes and dreams about your top issues? And what are ideas you have that can help remove these barriers? Are these barriers related to the issues you care about?
3. Do you feel safe in your/this neighborhood? What makes it unsafe? Please explain.
4. In this neighborhood, 40% are white, 25% are Asian, and 14% are Black, what are your experiences with Whites, Blacks and Asians in this neighborhood? Please explain. What do you think needs to be done together to make this a better and more unified neighborhood?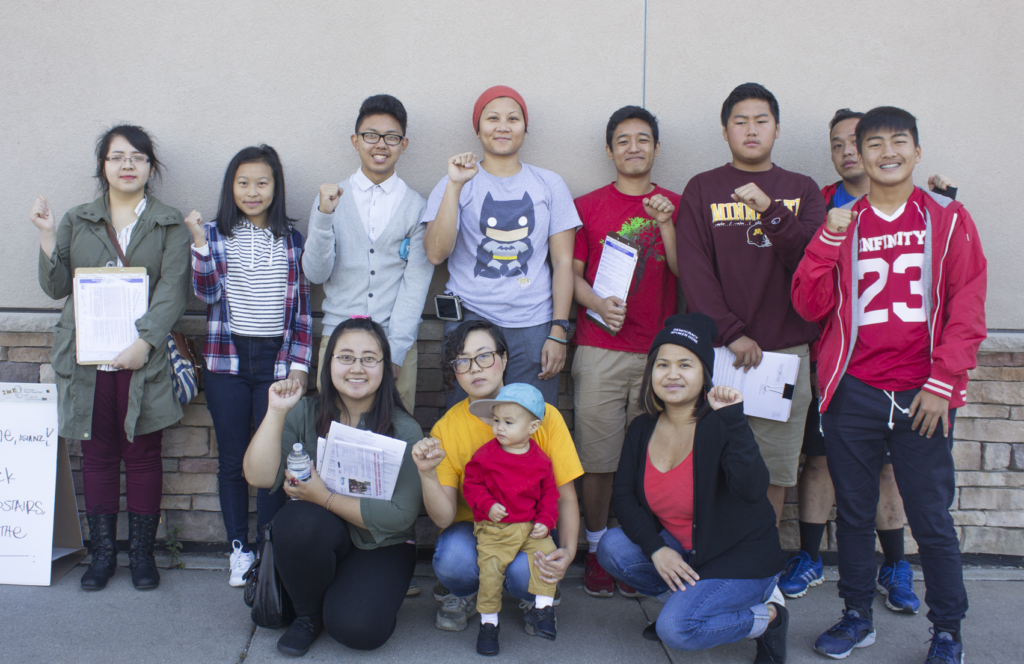 Questions asked of Frogtown and North End residents included:
1. What are the top three issues you care about most? What are your hopes and dreams for for your children/family?
2. What are the barriers that stop you from reaching your hopes and dreams? And what are ideas you have that can help remove these barriers?
3. Has your experience been negative or positive with the police in St. Paul? Please explain.
4. In this neighborhood, 1 out of 3 people are Asian and 1 out of 3 people are Black, what are your experiences with Blacks and Asians in this neighborhood? Please explain. What do you think needs to be done together to make this a better and safer neighborhood?
Volunteers asked every resident the question "What are your hopes and dreams?" as a way to begin the conversation. This was a very open-ended question, and the hopes and dreams of the residents from the various neighborhoods were diverse, intricate, and disparate. Hopes and dreams of residents included: going back to school, making enough money for a better life for their children, creating safer neighborhoods, becoming financially stable, buying houses for their elderly parents, living a healthy life, bringing their family on vacations, alleviating their financial problems and debts, moving out of their neighborhoods or the state altogether so they can experience the world, opening up a liquor store, educating their children so they can continue to speak their ethnic language, working at their dream company such as 3M, becoming a music producer. As one resident put it, their dream was to just simply "get up there."
Some residents framed their hopes and dreams in a larger and more philosophical context, mentioning: racial equity and the end to racism, women having more choices in life, better educational opportunities for low-income families via lower college tuition, expanding healthcare, hoping for a more open-minded society, or for the country to finally be out of debt. Asian residents had many hopes and dreams that mirrored the "average American," namely, economic security and a good life for themselves, their parents, and their children. Organizers intentionally opened conversations with a question about hopes and dreams because Asians are often neglected and silenced within discourses of race. Their personal dreams, hopes, and ambitions are rendered invisible under the guise of the model minority, which assumes they can"make it" and not have remaining hopes, dreams, or goals left to achieve. Responses show that Asian residents are still struggling. They have a variety of desires that demonstrate dire situations in life, and their struggles to overcome their adversities.
When volunteers asked what issues mattered, they noted that residents were concerned with material issues such as education, healthcare, and jobs. On the East side, 53 people were concerned with education, 18 people were concerned with healthcare, and 19 people were concerned with jobs. Only 1 person responded that they were concerned with women's rights and reproductive justice, civil rights, or equal rights. These numbers are similar to those from Frogtown/Northend. Volunteers tried to engage residents about their concerns about lack of jobs, education, and healthcare without using the language of "social justice" or "racial justice." However, in conversations, the residents then used phrases such as "parents don't speak English and there are language barriers," and "mostly white men who are Christians are in the corporate world." A college student did not mark "civil rights" or "equal rights" as topics of concern and instead only commented that education was the most important issue. However, that same college student went on to say that "Asians get passed over for opportunities." Organizers did not think most residents fit their experiences as "racial equity" or "civil rights." These statements revealed that, while education, healthcare, and jobs are legitimate areas of concern, digging deeper into these topics showcases that they are rife with inequities that fall within the domain of social justice, racial equity, and civil rights.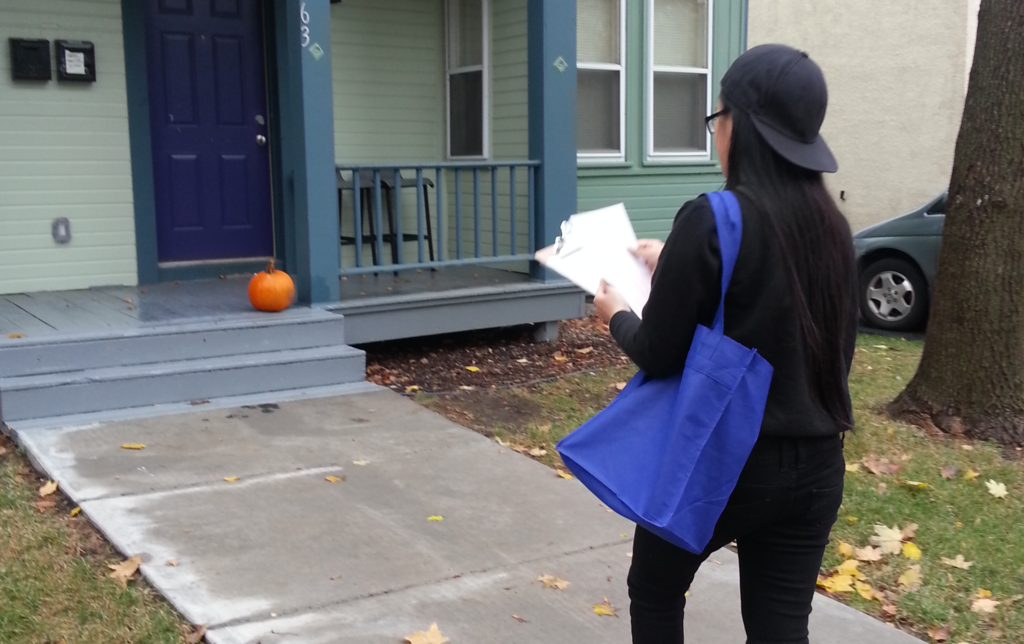 East Side Narratives on Interactions with Neighbors and Police
In recent years, news media have presented the image of high levels of crime on the East Side of St. Paul. One incident that caused a major uproar was the attack on a Hmong man by black youth who used sticks to poke his eyes and nearly blinded him. This incident occurred in the Payne-Phalen area, provoking commenters on Facebook to sensationalize the violence on the East Side St. Paul Crime Watchers Facebook Group. In many ways, incidents such as these inflame racial tensions. Doorknocker volunteers asked residents about their perceptions and feelings of safety, and elaborated on this question by asking about residents' relationships with their neighbors. At the first doorknock in March, volunteers specifically asked Asian residents about their relationships with Blacks and Whites in their communities. The answers varied, however, responses show a lack of engagement between neighbors overall.
Only 18 individuals reported "positive" relationships with their neighbors, while 4 individuals had "negative" relationships. The majority, 49 total combined, had either "complicated" relationships or no relationships at all. In determining whether a case was "complicated," organizers observed that residents commented on the good relationships they have with their neighbors, going as far as to say their children would play together. Residents would, however, turn around and say that other neighbors are bad, or that neighbors' children would curse at their children. Some residents expressed outright bad interactions, such as black neighbors illegally putting trash in their trash bins or stealing their bikes. Most residents reported not having issues with Whites or Latinos.
When asked about experiences with police, 14 residents reported that they had "positive" relationships with the police, 4 people had "negative" experiences, 8 had "complicated" relationships, and 17 individuals had no interactions or experiences with police. For residents who have reported positive experiences, they did not provide details as to why, except to say that "cops" are "nice" and "understanding." Organizers surmise that a positive experience may correspond with an experience that is "not negative." Residents with negative experiences detailed their interactions. One resident detailed how they reported assaults and theft, and the police did not investigate. This resident mentioned how police disproportionately ticket Hmong cars on the streets. Another resident described being pulled over, ordered to step out of the car, and then being degraded and verbally abused. The majority of residents reported avoiding police altogether, because they believe cops have preconceived notions about ethnic minorities. The fact that residents sense a disproportionate level of ticketing or verbal abuse may be due to preconceived notions that people of color are foreigners or criminals. Some stated that cops just do not understand or have skills to educate and interact with the community about the law at all. For those who have complicated experiences, they detail unsatisfactory interactions such as police taking too much time to respond, or outright yelling and shouting at residents.
Frogtown-North End Narratives on Interactions with Neighbors and Police
Experiences with Neighbors
Ten residents reported feeling safe or having positive experiences with their neighbors, citing diversity, appreciation of friendliness, ability to  "mind own business." Four residents reported negative experiences or feeling unsafe, citing concerns over stealing, loud noises, and not seeing enough protection on the streets. Five residents had a mixed perspective. One resident mentioned that their "house got broken into, but it was ok". One resident said their experiences in the neighborhood was "bad but not as bad as 1996".  Thirteen reported no interaction with their neighbors or did not see the question as applicable to them.
Experiences with Police
Volunteers asked residents specifically about their experiences with police in the March doorknock and excluded this question for October doorknock session. When asked about their experiences with the police, 16 residents reported positive experiences or interactions with police, five reported negative interactions, three residents reported experiencing both positive and negative interactions with police and sixteen were unsure. Residents who reported positive interactions with noted that police presence made the neighborhood feel "safe and good". One resident expressed that she feels good when they see officers drive around, they feel not threatened but protected. One cited, "when need them, [we] call and [they] show up and listen to us." Some mentioned having brothers and cousins on the police force. Residents who reported negative interactions with police, cited that "police don't talk right." These residents have experienced racial profiling from police, stating that the police would suspect them of doing things that they did not due because of their appearances (i.e, having long hair). Residents who reported mixed feelings state that while "they do protect and serve, but there are times when they [police] would label" them and their friends. One cited that police are fine, but wish there were more police that reflected their cultural communities.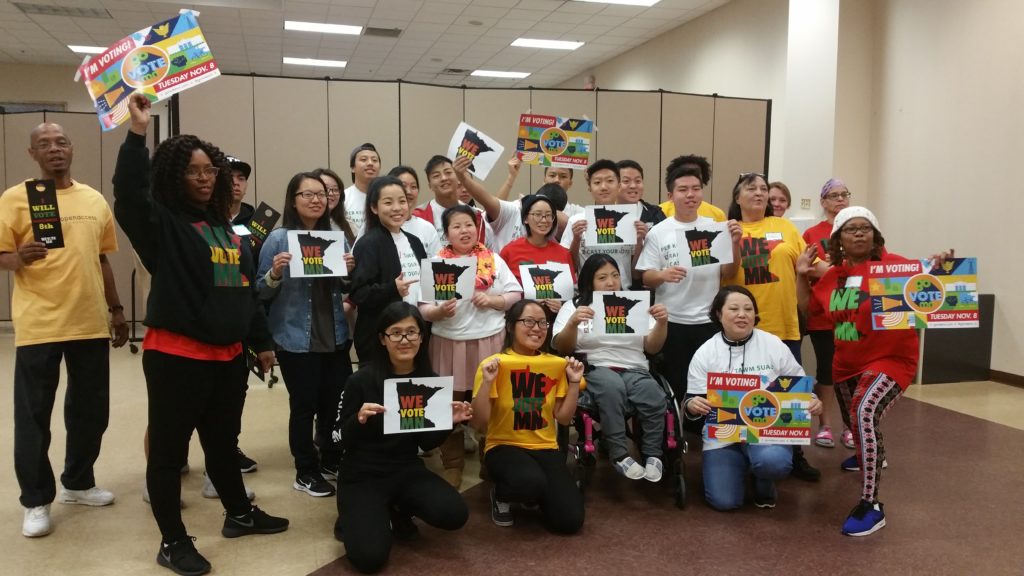 Conclusion – Limitations and Future Directions
While Frogtown and East Side St. Paul are distinct neighborhoods, there are many similarities we can draw between the two. The majority of residents are disengaged with each other on a host of issues. As observed and as questions about interactions between neighbors showed, residents do not talk to one another. However, when asked what could be done to strengthen neighborhood ties, residents offered many ideas. Some ideas included having neighborhood events, block parties, watching one another's kids, and hosting neighborhood barbeques and cookouts. One resident said simply inviting each other to their homes would be a great starting point. It is often easy to group neighborhood unity under the guise of "community forums" or "community events." However, residents related that the smaller steps of inviting each other over for visits or simply saying "hi" could be powerful gestures.
In conversations with volunteers, it was clear that residents have limited knowledge or ambivalent feelings about many issues, including: their own experiences with police, interactions with neighbors, or even how to improve their neighborhoods. AAOP's work seeks to engage with neighbors and get to know them. In some ways, this reflects the desires of residents who speak about a desire to "say hi" to their neighbors or invite neighbors to their homes. Residents revealed ambivalence with the police. In some instances, resident experiences bolster the discourse of police brutality and lack of accountability. This mirrors the troubling, ongoing discussion of lack of police accountability within communities of color. The "complicated" relationships that communities have with police may also reflect ambivalence or misinformation about police. However, the majority of residents have positive relationships. Organizers believe this is positive and agree with residents that more education, police training, and community outreach is always a necessary and should be an ongoing initiative. Law enforcement must take the lead to be accountable to those whom they serve.
The next steps of AAOP's project will capture even more nuanced details about residents in the Twin Cities. Organizers seek to know residents on a personal level so that advocates, activists, and overall those with have resources can help those who have less capital. Organizers, hosts, and volunteers expressed feeling a responsibility as informed citizens to continually engage communities about issues, while also listening to communities about what issues are important to them.
With the atmosphere of a Trump administration, many residents may feel voiceless or powerless. AAOP's goals and responsibility to our communities means we must actively work towards empowering them. In the election of 2016, AAOP registered and called many Asian voters, reminding them to vote and to gauge their voter experiences. This is just one instance of community engagement that we hope to expand on. We also aspire to continue our doorknocking project in other areas of the Twin Cities. A future area of focus will be to venture into the suburbs, where Asian residents may be ignored or forgotten about. While organizers compiled statistical data about these two neighborhoods, the narratives and stories that reveal the lived experiences of Asians living in Frogtown, Northend, and East Side are crucial.
Appendices
Figure 1: Age Breakdown
| | | | |
| --- | --- | --- | --- |
| Age | Frogtown | North End | Eastside |
| 0-17: | 0 | 0 | 1 |
| 18-35: | 36 | 15 | 40 |
| 36-55: | 6 | 0 | 3 |
| 56-73: | 5 | 0 | 1 |
| 74-91 | 1 | 0 | 0 |
| Not Reported | 28 | 5 | 52 |
| Total | 76 | 20 | 97 |
Figure 2. Ethnicity
| | | | |
| --- | --- | --- | --- |
| Ethnicity | Frogotwn | Northend | East Side |
| Hmong | 51 | 15 | 70 |
| Vietnamese | 10 | 0 | 1 |
| Cambodian | 1 | 3 | 0 |
| Chinese | 1 | 0 | 0 |
| Karen | 0 | 0 | 1 |
| Hispanic | 1 | 0 | 0 |
| Unknown | 13 | 2 | 25 |
Figure 3: Language
| | | | |
| --- | --- | --- | --- |
| Language | Frogtown | Northend | East Side |
| Hmong only | 33 | 8 | 38 |
| Hmong and English | 12 | 5 | 37 |
| Vietnamese | 10 | 0 | 0 |
| Karen | 0 | 0 | 1 |
| Lao | 1 | 0 | 1 |
| Thai | 1 | 0 | 0 |
| Khmer | 1 | 3 | 0 |
| English only | 1 | 2 | 1 |
| Unknown | 14 | 3 | 20 |
Figure 4: Employment
| | | | |
| --- | --- | --- | --- |
| Employment | Frogtown | North End | East Side |
| Employed | N/A | N/A | 66 |
| Unemployed | N/A | N/A | 8 |
| Unknown | N/A | N/A | 20 |
Figure 5: Experiences with Neighbors
| | | | |
| --- | --- | --- | --- |
| Experiences with Neighbors | Frogtown | Northend | East Side |
| Good | 13 | 13 | 18 |
| Bad | 5 | 1 | 4 |
| It's Complicated | 10 | 5 | 18 |
| No comment/no interaction | 27 | 1 | 31 |
Figure 6: Experiences with Police
| | | | |
| --- | --- | --- | --- |
| Experiences with Police | Frogtown | Northend | East Side (3/25 ONLY) |
| Good | 22 | 0 | 14 |
| Bad | 5 | 0 | 4 |
| It's Complicated | 18 | 0 | 8 |
| No comment/No interaction/Unsure | 7 | 0 | 17 |
Doorknocking for Justice: Exploring Asian Dreams, Lives, and Issues Through Critical Conversations