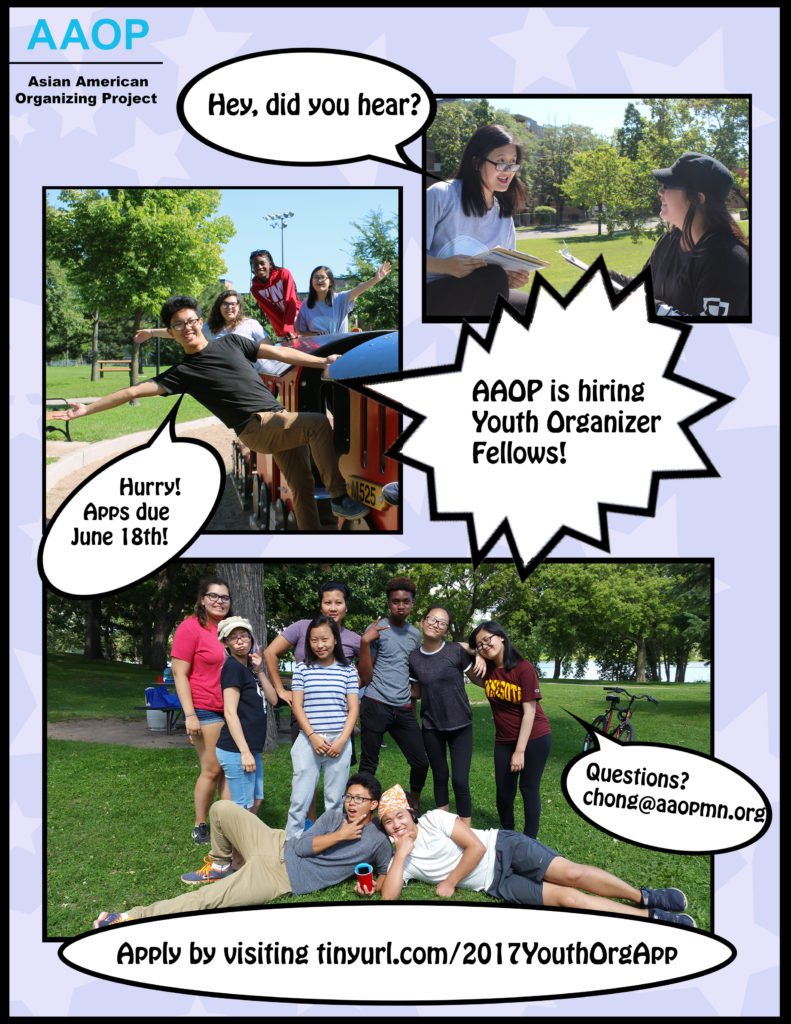 Job Title: Youth Organizer Fellow
Hours: 15 hours a week; July 2017 – August 2017
Stipend: $400
Asian American Organizing Project is seeking our next cohort of high school Asian-identified Youth Organizer Fellowes 
(15 – 18 years old & must be in high school) to outreach and engage youth and young Asians in local neighborhoods. This 
is a learning experience based on our three topics that include: Civic Engagement, Gender Justice, and Community 
Organizing. Fellows who are accepted will be given a stipend and bus card. Applications will be accepted until
June 30, 2017. Please submit an email addressing the questions below to 
chong@aaopmn.org with Youth Organizer Fellow in email subject.
Duties:
● Read materials and prepare questions related to discussion
● Participate in related field work, field trip, and community events
● Organize educational and social youth events
● Adopt a Ward and drop literature
● Table and outreach at events
● Register eligible, new young voters
● Collaborate check-ins with Youth Coordinator & Organizer Trainer
● Attend trainings on community and cultural organizing; racial, and gender justice; and conversational Asian language when applicable
Skill Sets Developed:
● Racial & Gender justice analysis
● Public speaking & workshop facilitation
● Events planning, & management
● Basic Fundraising
● Literature Drop process
● Door-knocking & phone-banking
● Volunteer recruitment and outreach
● Voter registration guidelines & legality
Knowledge Gained:
● Issues affecting MN youth Asian communities
● Non-partisan electoral and civic engagement
● Asian cultural nuances related to gender and racial justice
Experience:
● Strong commitment to civic engagement, community organizing, and empowerment of underrepresented Asian communities
● Enjoy and willingness to learn about building young Asian self-determination and power, and train the trainer skills
● Enjoys meeting and interacting with new people, and people of all background and identities
● Works well in challenging environment both independently and as part of a team
● Ability to stay on task and good time management with work, home, and school work
Questions:
Why do you think it's important for Asian youth to be active in educating their family or community about issues 

affecting them? Please use 1 or 2 issues to explain.

What are you hoping to gain from this youth organizing fellowship?

What is one skill or experience that you can bring into the youth organizing fellowship?
AAOP does not discriminate on the basis of race, color, ethnicity, national origin, citizenship status, religion, sex, sexual orientation, 

gender expression, age, height, weight, physical or mental ability, veteran status, military obligations, and marital status. We strongly 

encourage persons who are Asian & Pacific Islanders, queer, trans, and women of color to apply for the positions.